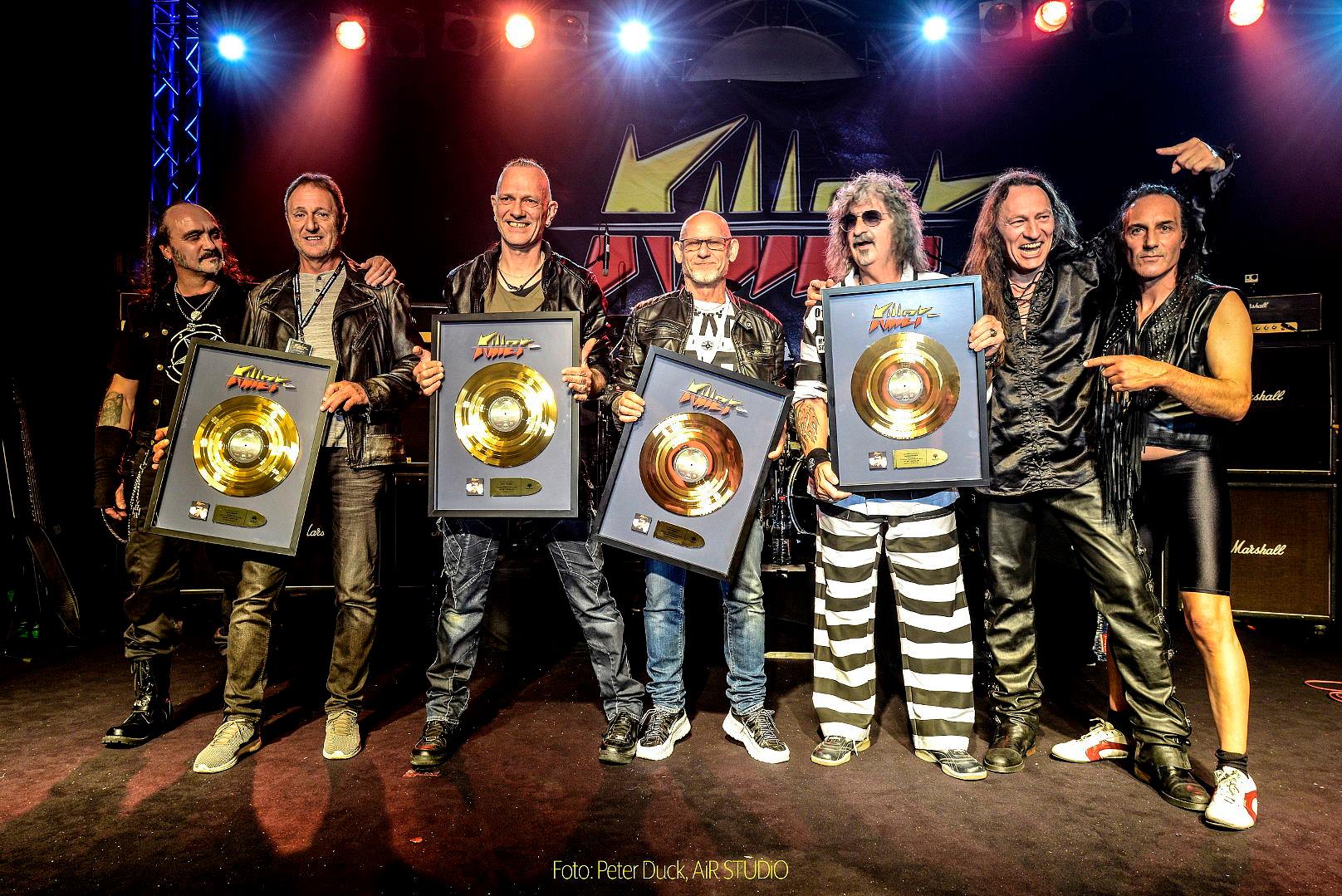 The new Leadsinger is found: PATRICK STROBEL
We are thrilled and very proud to announce that german rock singer PATRICK STROBEL will take over the lead vocals with KILLER.
Not only did Paddy immediately convince the coaches of his "Voice of Germany" performance, but he also effortlessly prevailed against his 12 competitors for his job as new shouter.
Album 2019 - Pre Production
We started the pre production for the album 2019. See first samples on our Youtube Page!
DECEMBER 2017 KILLER AS LIVE/WIRE SUPPORT AT Z-7
15th December 2017. Again a KILLER show in the 7-Z in Pratteln. This time as support act of Live/Wire.
It was a great gig of both bands in front of a sold out house. You can find a video clip on our YouTube channel. We thank Live/Wire, the entire Z-7 crew and especially the audience for this unforgettable evening!
NOVEMBER 2017 CROWDFOUNDING SUCCESSFUL!
It's incredible! In not even 30 days, the fan base has brought the new KILLER album with the crowdfunding project. So it is clear: In 2018, a new studio album will be recorded. The songs will be on CD, digital for download and --- on vinyl! --- published.
The band around Crown is already working on the new songs. We are planning the release on the spring of 2018. Keep you posted. To receive the latest news, you should subscribe to the Facebook page of KILLER.
A big thank you to everyone who made it possible to record the album!
Keep on rockin' !
OCTOBER 2017 KILLER LAUNCH CROWD FOUNDING PROJECT
AUGUST 2017 KILLER AS SUPPORT OF LAST IN LINE AT Z-7
MAY 2017 FIRST GIGS ARE HISTORY

The KILLER premiere was full ... !! Together with the American rock tube LEATHER LEONE the band has quickened the time honored Musigburg in Aarburg ..!
The Beast is back ...!
Video recordings of this memorable moment are available on DVD or BluRay at KILLER ONLINE ROCKSHOP.
FEBRUARY 2017 INTERVIEW RADIO 32
Martin Ackle from RADIO 32 did a great interview with guitarist Crown the other day. You can check out the KILLER feature here. 32 minutes rock 'n roll with the new songs and news on the Solothurn local radio. It will be broadcast on February 13, 2017 at 19 o'clock.
JANUARY 2017 NEW ALBUM PURE DYNAMITE

Release of the new maxi-CD PURE DYNAMITE with three new songs written by guitarist Crown Kocher and singer Andy Lickford. Three flashy rock numbers and as bonus track the ballad CRYSTAL BUTTERFLY from the album Ladykiller, the debut album by KILLER.